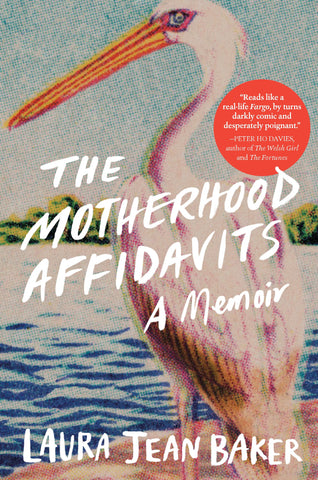 The Motherhood Affidavits
"Laura Jean Baker has written a beautiful and brave memoir of motherhood and its discontents, which are indistinguishable from its joys. This is a warmly intimate yet intellectually provocative personal document of originality and considerable charm."
—Joyce Carol Oates

With the birth of her first child, soon-to-be professor Laura Jean Baker finds herself electrified by oxytocin, the "love hormone"—the first effective antidote to her lifelong depression. Over the next eight years, her "oxy" cravings, and her family, only grow—to the dismay of her husband, Ryan, a freelance public defender. As her reckless baby–making threatens her family's middle–class existence, Baker identifies more and more with Ryan's legal clients, often drug–addled fellow citizens of Oshkosh, Wisconsin. Is she any less desperate for her next fix?

Baker is in an impossible bind: The same drive that sustains her endangers her family; the cure is also the disease. She explores this all–too–human paradox by threading her story through those of her local counterparts who've run afoul of the law—like Rob McNally, the lovable junkie who keeps resurfacing in Ryan's life. As Baker vividly reports on their alleged crimes—theft, kidnapping, opioid abuse, and even murder—she unerringly conjures tenderness for the accused, yet increasingly questions her own innocence.

Baker's ruthless self–interrogation makes this her personal affidavit—her sworn statement, made for public record if not a court of law. With a wrenching ending that compels us to ask whether Baker has fallen from maternal grace, this is an extraordinary addition to the literature of motherhood.