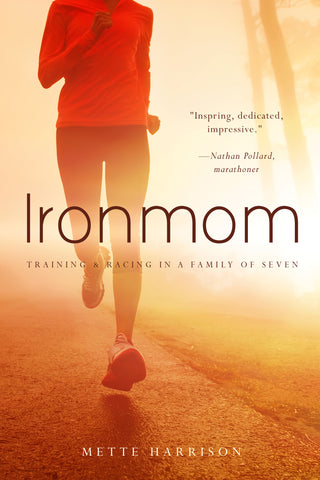 Ironmom
From the personal tragedy of a stillbirth to an Ironman and beyond, author and stay-at-home mom of five children Mette Ivie Harrison learned life lessons about accepting herself, moving forward, pushing to become better, and bringing her family along the way—sometimes kicking and screaming.

In this riveting and inspiring first-person story of going from couch potato to nationally ranked triathlete, Mette shares her experience training and racing with her family. She explores how to manage a busy family, how to ignore the things that don't matter, and how to focus on goals that create a stronger you and a stronger family. She shares how racing can be a vacation, how racing with your children strengthens your family bond and how, when you think you've hit your wall, whether in parenthood or during hour twelve in a triathlon, how you can push through and succeed.
 
Part memoir, part manual, and all family, this incredible story of how one mom chose to remake her life and her family will inspire you to achieve greater heights.