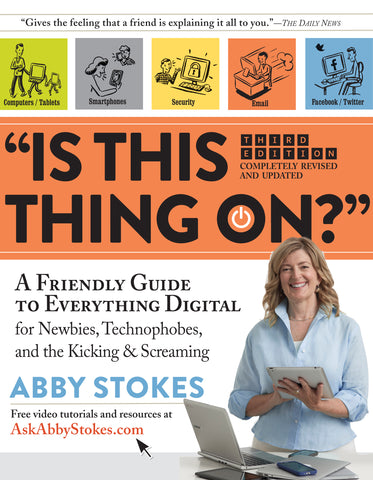 "Is This Thing On?"
A personal trainer for the digitally challenged.
 
Abby Stokes is the hand-holding expert who knows how to teach the joys of technology to anyone who didn't grow up using a keyboard or mouse.
You'll learn how to shop for a computer or tablet that's just right for you. How to sign up for Internet and email access. How to understand and use search engines, and get started with word processing and text messaging. How to choose a smartphone. How to participate in social media like Facebook, Twitter, Instagram, Pinterest, YouTube, and more. And, importantly, how to protect your online security, and what to do when things go wrong.
Includes both Apple and PC keyboard shortcuts and more than 200 recommended websites and 100 free mobile apples.
Learn to:
Take and share digital photos
Enjoy the convenience and bargains of online shopping
Search for recipes and health and travel information
Look up old friends and make new ones
Manage your finances online
Keep up with the latest news, sports, weather, theater times, stock quotes
Watch movies, listen to music, read ebooks
And do it all from a tablet, computer, or smart phone