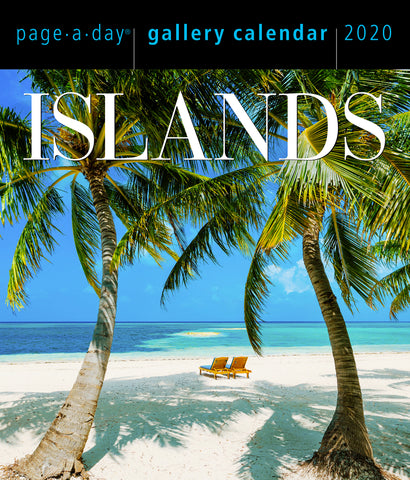 Islands Page-A-Day Gallery Calendar 2020
A daily escape to paradise! A calendar for travelers, beach-combers, and dreamers.
Kick off your shoes, switch your phone to airplane mode, and indulge in the luxury of pure escape. With hundreds of lush, full-color photographs, Islands is a gorgeous gallery of retreats for your desktop, each one a place that is truly apart, with page after transfixing page of glittering, crystalline waters and snow-white sands. Tropical landscapes, with piercing sunrises and Edenic blue skies. Windswept palm trees gently whispering in the breeze. And remote beaches that make the rest of the world slip away, leaving you in a haven of bliss.

Page-a-Day® Gallery Calendars include 160 sheets of glossy, high quality paper printed with gorgeous full-color photographs. Each calendar is packaged in a clear plastic box that opens into a desktop easel for elegant, inspiring display.