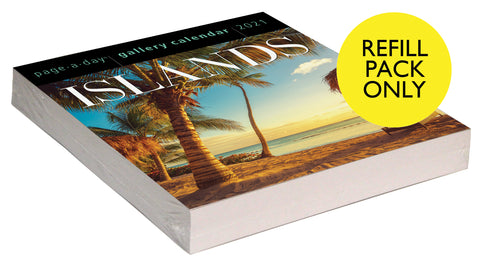 Islands Page-A-Day Gallery Calendar 2021 Refill Pack
This is a refill pack for the Gallery Calendar. It includes the pages of the Islands Page-a-Day Gallery Gallery Calendar 2021, but there is no plastic backer included. 

Paradise—found!

Like a getaway for your desktop, Islands is a magical escape, every day. Secret coves and snowy white beaches. Calm, glassy seascapes, in shades of azure and shimmering greens. Hammocks beckoning. Balmy, windswept shores echoing with the crash of waves. It's a year of sunshine through all seasons, with each lush, richly colored photograph inspiring a moment of sheer serenity and uninterrupted bliss.

Page-a-Day® Gallery Calendars include 160 sheets of glossy, high quality paper printed with gorgeous full-color photographs. Printed on FSC-certified paper.