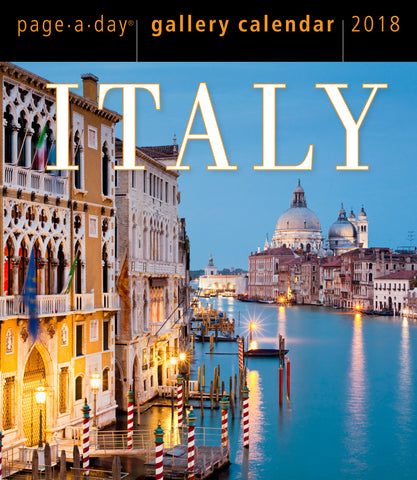 Italy Page-A-Day Gallery Calendar 2018
A gorgeous tribute in pictures to Bella Italia. More than 300 photographs—in sumptuous color and vintage black-and-white—transport viewers to Italy's timeless wonders. Behold the exquisite marble facade of the Duomo in Florence. Wildflowers blooming along the Sardinian coast. Rainbow-hued houses in seaside Burano. Plus bottles of mouthwatering limoncello, the dramatic Trevi Fountain in Rome, and the snowy peaks of the Dolomites. It's an elegant gift for admirers of Italy's visual, cultural, and culinary richness.

The Rolex of calendars, the Page-A-Day Gallery Calendar elevates what a calendar can be, incorporating engaging content with the weight, style, and visual richness usually reserved for art books. A sophisticated gift for collectors, connoisseurs, and aficionados—and an aesthetic upgrade for any desktop.