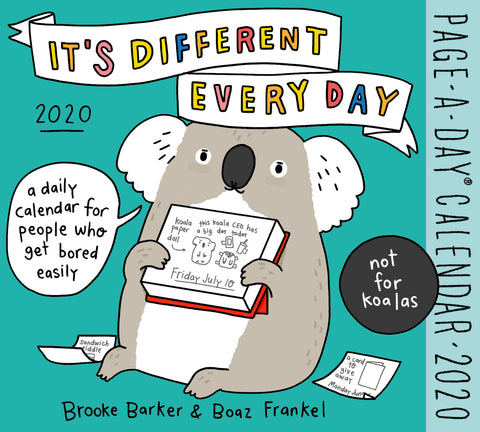 It's Different Every Day Page-A-Day Calendar 2020
A calendar that's completely different every day—and contagiously fun!

In life, no two days are precisely the same—precisely the joy of this sweetly irreverent calendar from Brooke Barker and Boaz Frankel. Page after page, it keeps you coming back for more surprises: a charming comic, a quirky joke, a fantastically terrible pun, a silly game for sharing with friends. On one day, dress a naked mole rat paper doll in cutout outfits (including a mini motorcycle jacket). On another, guess which fun fact about arctic foxes is true: My burrow can have 100 entrances or I collect gel pens (psst … it's the former). And celebrate National Sandwich Month with sandwich-related tongue twisters. Every day will make you smile in its own completely original, entertaining way—perhaps with a quiz, game, soothing activity, festive comic, or more, plus hundreds of hand-drawn illustrations.