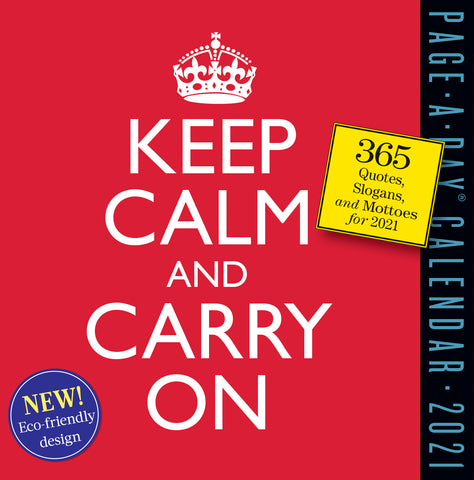 Keep Calm and Carry On Page-A-Day Calendar 2021
Pitch-perfect quotes to begin every day on the right note.

It's a daily boost of strength and positivity, inspired by the pithy poster designed to keep Britain's national spirit up during the darkest days of World War II. The Keep Calm and Carry On calendar features hundreds of quotes bursting with motivation, wisdom, gusto, and humor, including the sage: "What matters most in life is good health and a good night's sleep."—Indian actor Waheeda Rehman. The stirringly bold: "You have no excuses not to change the world."—US President Barack Obama. And the singularly Toni Morrison: "If there's a book that you want to read, but it hasn't been written yet, then you must write it."
 
Introducing new eco-friendly cardboard backer and larger page size! Printed on FSC-certified paper.