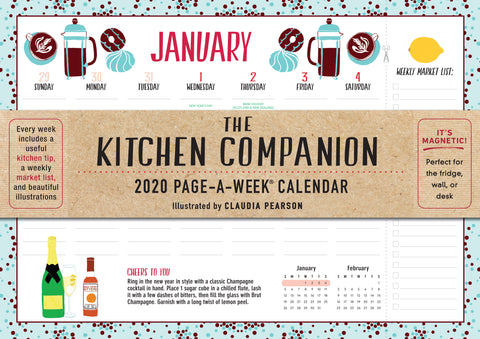 Kitchen Companion Page-A-Week Calendar 2020
All your kitchen and home organization (even shopping lists!) in one handy week-at-a-glance calendar.

The Kitchen Companion Page-A-Week calendar is a weekly magnetic calendar to spruce up your fridge and bring order to the days ahead. Weekly spreads feature plenty of room for keeping track of plans and notes and for jotting down grocery lists (you'll never misplace yours again), with charming illustrations and hand-lettering. There are surprising expert tips on cooking (steam okra to get rid of its slimy texture), cleaning (run half an onion along your grill grates to degrease them), and using up leftovers (turn refrigerated rice into rice pudding). And throughout the year, colorful, stylish illustrations of produce, fresh herbs, vintage kitchen equipment, and more.

Padded 11" x 8 1/2" calendar is a perfect fit for the fridge (it's magnetic!) or kitchen wall.