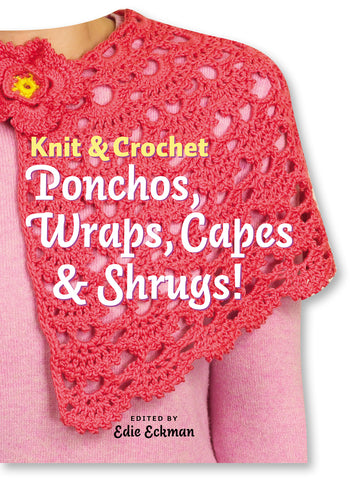 Knit & Crochet Ponchos, Wraps, Capes & Shrugs!
Knitters and crocheters alike are embracing the free-flowing, shoulder-wraped styles of ponchos, shawls, shrugs, capes, and cloaks. This collection of 15 original patterns from a notable array of knitting and crochet designers covers the gamut of popular wrap options.

Unlike other poncho books, this collection is designed to appeal to both knitters and crocheters, and offers a range of complexity from beginner to more advanced. Using the latest novelty yarns, as well as classic yarns and designs, editor Edie Eckman has included something for everyone. There's a comfy Aran Panel knitted poncho for cold winter days, an elegant Coral Capelet to crochet, a lightweight Mossy Stole that's perfect for cool spring evenings, a Maid Marian cloak with knit-in arm cuffs, a Snug Fall Cozy with beaded embellishments, and many more.

Part of Storey's popular die-cut series, this book features step-by-step instructions presented in our distinctive at-a-glance chart format that has been lauded by users. With this essential fashion accessory being tossed over the shoulders of everyone from Martha Stewart to J. Lo, Knit & Crochet Ponchos, Wraps, Capes & Shrugs! is a perfect fit for all those knitters and crocheters who are clamoring for distinctive, affordable pattern books.