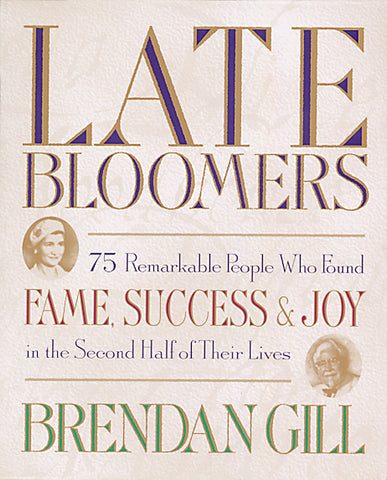 Late Bloomers
Late Bloomers applauds seventy-five individuals whose greatest achievements occurred or were recognized later in their lives. The people profiled have come from different countries and diverse social backgrounds, yet all have one thing in common: They refused to give up their dreams just because they were no longer young, and thus managed to make the second half of their lives rich and fulfilling for themselves and for others.

In sparkling profiles written by veteran New Yorker contributor Brendan Gill, the stories of these resilient people unfold. Some, such as Raymond Kroc (the founder of McDonalds) and Harry Truman changed careers relatively late in life. Others, such as botanist George Washington Carver, worked for years in their profession, finding recognition only later. Many of those profiled, including Julia Child and Gertrude Jekyll, didn't even begin producing their life's work until middle age.

At once timely and timeless, Late Bloomers is an inspiration for everyone who wants to believe that it's never too late.