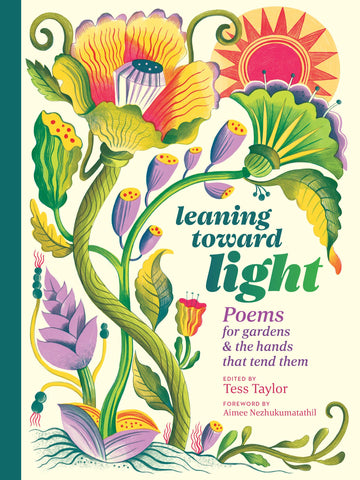 Leaning toward Light
This beautiful poetry anthology offers a warm, inviting selection of poems from a wide range of voices that speak to the collective urge to grow, tend, and heal—an evocative celebration of our connection to the green world.
Caring for plants (much like reading a good poem) brings comfort, solace, and joy to many—offering an outlet in difficult times to slow down and steward growth. In
Leaning toward Light
, acclaimed poet and avid gardener Tess Taylor brings together a diverse range of contemporary voices to offer poems that celebrate that joyful connection to the natural world. Several of the most well-known contemporary writers, as well as some of poetry's exciting rising stars, contribute to this collection including Ross Gay, Jericho Brown, Mark Doty, Jane Hirshfield, Ada Limón, Danusha Laméris, Naomi Shihab Nye, Garret Hongo, Ellen Bass, and James Crews. Select poems are paired with reflective pauses and personal recipes from the authors, and colorful illustrations are featured throughout. Plus, the gorgeous hardcover package with ribbon bookmark makes this anthology a distinctive gift.
Gardening offers a rich and expansive subject, with poems moving thematically through the year from planting and weeding to harvesting and eating. Poets find purpose in browsing a seed catalog and comfort in picking green tomatoes despite California's wildfire season raging on—reminding us how gardening is a healing practice, both for ourselves and the spaces we tend. The range of experience reflected, from caring for a few houseplants to an expansive garden or farm, offers wide appeal and illuminating insights for gardeners, plant lovers, or anyone interested in connecting more deeply with the earth.
This publication conforms to the EPUB Accessibility specification at WCAG 2.0 Level AA.