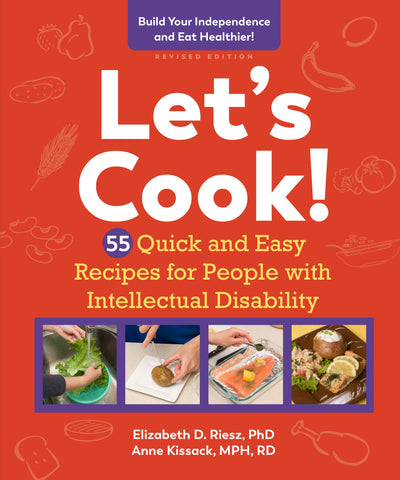 Let's Cook!, Revised Edition
Prepare your own healthy meals with success!
In
Let's Cook!
you'll learn how to cook simple and nutritious meals—with recipes using all the MyPlate food groups. Gain confidence in the kitchen and build self-worth! Designed by and for adults with intellectual disability,
Let's Cook!
promotes and reinforces life skills for independent living.
Let's Cook!
can help you:
Create healthy meals.
Control carbs, calories, and salt.
Follow food and kitchen safety.
Eat well, today and every day!
Inside
Let's Cook!
you'll find:
More than 50 healthy "I can cook" recipes in large print are written at an early elementary reading level.
An easy-to-follow recipe style sets forth What I Need, What I Use, What I Do.
Color photos showcase each recipe.
Step-by-step preparations take the guesswork out of cooking.
Complete nutrient information is included for each recipe.