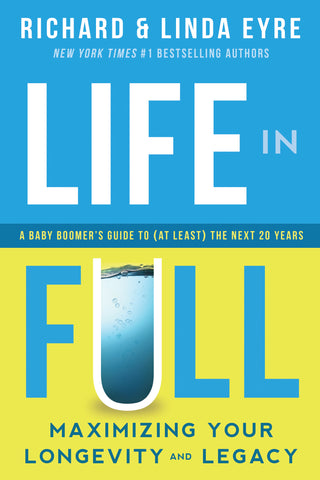 Life in Full
Eighty million Baby Boomers are now in or approaching their sixties and moving into retirement. While this transition may be difficult, the succeeding years can be fufilling, invigorating, and joyous. Written by the New York Times #1 bestselling author team Richard and Linda Eyre, Life in Full creates a seven-question blueprint for how to spend the next twenty years living the life you have always wanted and enjoying the life-fulfillment you deserve. Creating a proactive plan for the next twenty years is both possible and practical, and Life in Full shows you how! Ask yourself:
How long do I want to live?
Who do I want to live with?
How do I want to look and feel?
How much money will I need? 
What do I want to keep doing, and what do I want to start doing?
What values do I believe in, and what kind of person do I want to be?
What type of legacy do I want to leave behind?
Using these seven questions and focusing on perspective, planning, protecting, and posterity, the Eyres guide you through a process of life understanding that will prepare you for living the next twenty to thirty years in a way that will bring you the most happiness and fulfillment possible.