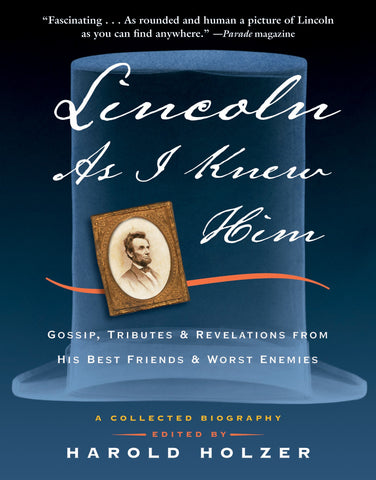 Lincoln as I Knew Him
Forget what you think you know about Abraham Lincoln. Yes, he was a brilliant orator, a shrewd politician, and a determined leader who guided us through the bloodiest war in American history. But he also was a terrible dresser, rarely bothered to comb his hair, annoyed his colleagues by constantly reading out loud, loved raunchy stories, and let his kids run all over him.

Author and Lincoln scholar Harold Holzer sifted through nineteenth-century letters, diary entries, books, and speeches written by people who knew Lincoln and offers up the real skinny on the man who was arguably America's greatest president. From the famous—Nathaniel Hawthorne, Harriet Beecher Stowe, Frederick Douglass, Ulysses S. Grant—to the not-so-famous—White House secretaries, artists, bodyguards, childhood pals, and a rejected fiancée—this collection presents a revealing, and at times contradictory, view of our sixteenth president, from his boyhood through his White House years. These firsthand anecdotes and recollections strip away the myths and legends to uncover the authentic Abraham Lincoln before the history books got hold of him.