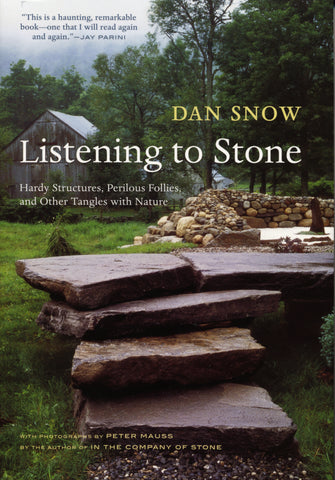 Listening to Stone
A master craftsman provides us with the timeless wisdom he has gained from heaving and hewing stone.

In his highly anticipated second book, Vermonter Dan Snow once again proves that he is not just one of America's premier artisans, but also one of our most articulate voices on the natural world and our relationship to it. Snow's medium is stone: He is the nation's premier drystone wall builder. Schooled in this ancient craft, he painstakingly creates structures as breathtaking as sculpture with nothing but gravity as their glue. In Listening to Stone, Peter Mauss's tactile photographs of Snow's artistry are matched by the artisan's quietly compelling prose.

In a voice as expressive as Annie Dillard's and as informed as John McPhee's, Snow demonstrates astonishing range as he touches on such subjects as geology, philosophy, and community. We learn that stone's grace comes from its unique characteristics—its capacity to give, its surprising fluidity, its ability to demand respect, and its role as a steadying force in nature. In these fast-paced times, Snow's life's work offers an antidote: the luxury of patience, the bounty and quietude of nature, the satisfaction of sweat. "I work with stone," he ultimately tells us, "because stone is so much work."