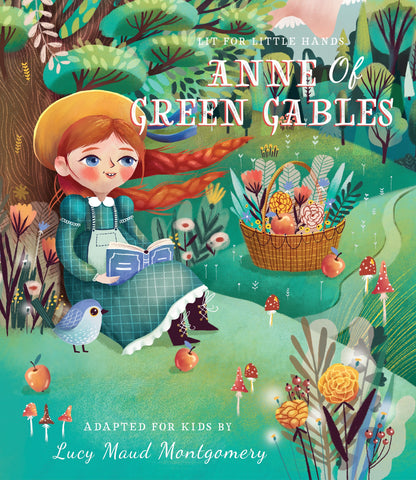 Lit for Little Hands: Anne of Green Gables
"People laugh at me because I use big words. But if you have big ideas, you have to use big words to express them, haven't you?"
Fall in love with the precocious Anne Shirley all over again! Filled with interactive wheels and pull-tabs, and lavishly illustrated, Lit for Little Hands: Anne of Green Gables is an unprecedented kid's introduction to L. M. Montgomery's beloved classic coming-of-age novel. Unlike many board books that tackle the classics, Lit for Little Hands tells the actual story in simple, engaging prose?. Gorgeous illustrations transport the reader to Prince Edward Island, while tons of interactive elements invite kids to join Anne in one mishap after another—from cracking her slate over Gilbert's head to finding a dead mouse in the pudding sauce! Fans of the novel will be delighted by the book's attention to detail and clever use of original dialogue. And the book's super-sturdy board means everyone can enjoy this heartwarming story over . . . and over . . . and over again!