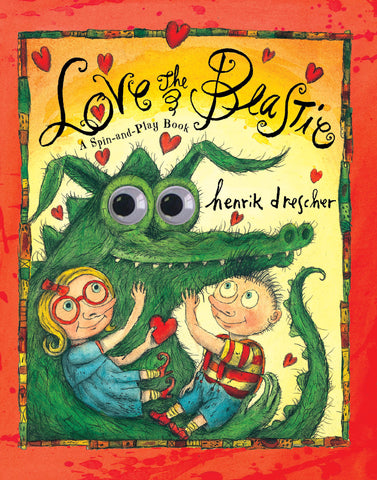 Love the Beastie
Be kind to your pets! That's the message of Love the Beastie.  Gross, outrageous, but pure fun in a book, Love the Beastie is a pull and poke, spin and play, and cuddle and kiss Valentine for kids and especially kids with pets.

Meet Paul and Judy. And meet their pet, Beastie. Paul and Judy used to be so mean to Beastie. They pulled Beastie's hair, tickled Beastie's feet. So, Beastie feastied! Good thing Paul and Judy learned their lesson (stuck inside the belly of the Beastie).

Written and illustrated by Henrik Drescher, Love the Beastie picks up where his irresistibly offbeat Pat the Beastie left off. Now Paul and Judy really are best friends with Beastie, and treat him with the love and respect he deserves. They go to the playground and spin on the carousel—don't throw up! Brush Beastie's gunky teeth (Gross!), and help Beastie play dress-up (ha, look at Beastie's funny clothes). Then, at the end of a long day, they all cuddle together in bed. Ahhh.

So what if Beastie's kisses are scratchy or Beastie farts in his sleep. That doesn't mean a thing when you love someone.