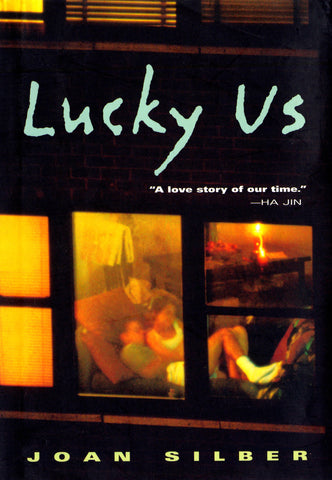 Lucky Us
"A love story of our time." —Ha Jin, author of The Boat Rocker
Once upon a very recent time in New York City, there was a couple, two ordinary single people who met the way city people meet. Even though mismatched, they fell in love. And after some hesitations they decided, finally, to marry-only to look up and find their world caving in around them.
Sexy, vivacious Elisa, of the miniskirts and tiny T-shirts, still in art school and just coming off an affair with a temper-driven fellow artist, initiated things. She came on to cool, quiet Gabe who wore his hair in a graying ponytail and kept a low profile. A good bit older than Elisa-more than twenty years older, in fact-he found himself buoyed by her youth and her brashness. To her great surprise, Elisa craved Gabe's watchfulness and solicitude.
That Gabe's past included a successful drug dealing business bothered her not at all. And certainly he was unconcerned that Elisa's more current past included a lot of casual sex. Neither of them ever expected to have to answer for what had been so easy for Gabe and so enjoyable for Elisa. But truth be known, the one obvious thing they had in common was the burden their pasts suddenly put onto their future.
Joan Silber has written a love story for the turn of the twenty-first century, one that takes into rich account the styles and pressures of contemporary urban life. But more than that, she has created two characters who throb with real-life personality, passion, and courage.