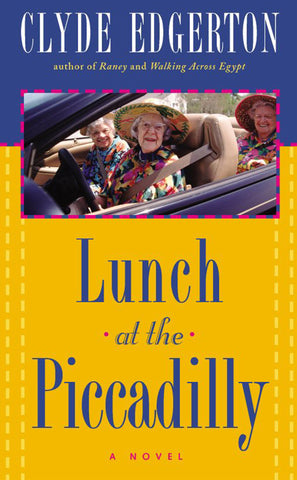 Lunch at the Piccadilly
In his eighth deliciously funny novel, Clyde Edgerton introduces us to the irrepressible Lil Olive, who's recently arrived at the Rosehaven Convalescence Center to recuperate from a bad fall. Lil longs to be back in her own apartment, and since her driver's license doesn't expire until her ninety-seventh birthday, she also longs to get back behind the wheel of her sporty '89 Olds. To pass the time until independence, Lil strikes up some new friendships. Mrs. Maudie Lowe and Mrs. Beatrice Satterwhite, who are laying bets on whether Clara Cochran's glass eye comes out at night. And L. Ray Flowers, the freelance evangelical preacher with fancy white hair who sings his sermons, strums a mean guitar, and aspires to an even higher calling. Keeping a watchful eye on them all is Carl, Lil's middle-aged bachelor nephew with a heart of gold and the patience of a saint. But soon Rosehaven is turned upside down and the outcome is anyone's guess. Lil and the girls steal a car and hit the highway. L. Ray's vision of a national movement to unite churches and nursing homes (Nurches of America) is embraced by the residents. And then there's Darla Avery's dirty little secret, which could spell the end for the visionary preacher.

Edgerton looks at the challenges of aging with sympathy, sensitivity, and his trademark sense of humor. Like the bestseller Walking Across Egypt, this is vintage Edgerton: wise, wistful, and laugh-out-loud funny.