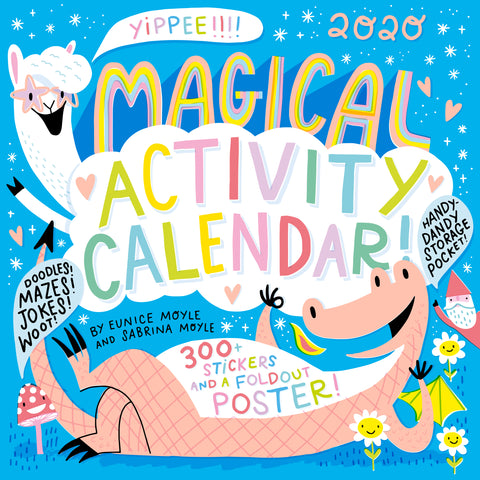 Magical Activity Wall Calendar 2020
Pure interactive fun all year long—12 activity packed-scenes featuring llamas, unicorns, narwhals and mermaids. Plus stickers!

A year of enchanting fun for all ages! Every month of the Magical Activity Calendar is packed with playful prompts (Draw yourself dancing to your own magical beat), celebrations (dragon appreciation day, bubble bath day—featuring an adorable mermaid illustration), games, jokes, and more. It's as delightful for kids as it is for teens and adults who are feeling a little magical, with illustrations of colorful unicorns, friendly dragons, groovy llamas, and cheerful gnomes throughout—plus 300 stickers, including sparkly ones, a bonus 12" x 24" poster (perfect for decorating a bedroom wall or cubicle), and a neon-hued drop-down storage pocket. From Eunice and Sabrina Moyle, the author-illustrator team behind the beloved Hello Lucky greeting cards. Printed in five colors—including eye-popping neon orange.