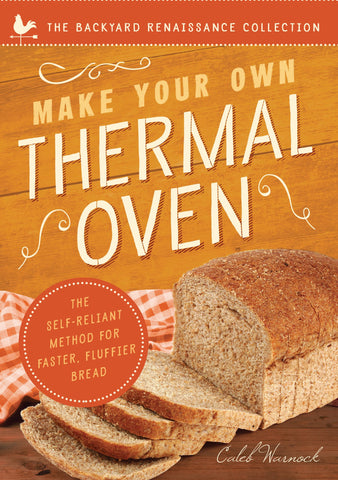 Make Your Own Thermal Oven
When you are proofing (raising) bread dough, there is nothing better than a thermal oven. The consistent, long-lasting warmth allows the bread to be spongier and fluffier than any other method. No wonder people have used thermal ovens to raise bread for centuries!
Caleb Warnock's clear instructions and experienced advice allow readers to inexpensively create and use a homemade thermal oven that will proof up to eight loaves of bread at one time or two trays of cinnamon or dinner rolls. This fantastic addition to the Backyard Renaissance Collection includes:
instructions on how to create a one-of-a-kind thermal oven for only $20;
instructions on how to make your oven portable and use it as an oven, a freezer, a cooler, or a heat bag;
how to make your own yeast;
multiple recipes;
Caleb's bread-making tips and tricks;
and much more in this tiny book packed with bread-making secrets.