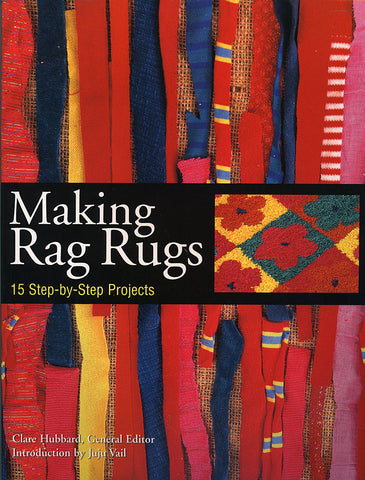 Making Rag Rugs
Creating a beautiful throw rug from scraps is easy enough for anyone to master.
Making Rag Rugs
, a collection of 15 original designs from a variety of talented rug crafters, suits the skills of any crafter, from the rawest beginner to the most sophisticated talent.
This book shows how to utilize such simple recycled ingredients as leftover fabric, old clothes, and household textiles to create these beloved and time-honored rugs. The techniques are easy to learn, the cost is minimal, and very little special equipment is needed. Each project is accompanied by a detailed "what you will need" list, step-by-step instructions with color illustrations and full-color photographs of the whole rug, and close-up detail that brings the projects to life and makes them easy to achieve. Specification boxes detail the size of the rug and the technique used.
The designs in this book are contemporary and fun. The Retro Flower Rug is inspired by the classic flower shapes used by Andy Warhol and Mary Quant in the 1960s. Lavender Field is made from soft woolen blankets dyed in shades of green and mauve to represent lavender flowers, foliage, and surrounding fields. Lavender buds are even sewn into the lining to gently scent the room. A wonderfully rustic Braided Woolly Rug is made from cream and white blankets and black and gray coat and skirt fabrics. All of the basics are covered - from preparing the rags to finishing, cleaning, and caring for the completed rugs. Once crafters have mastered the techniques of hooking, prodding, braiding, and weaving, the next step is to design their own rugs.