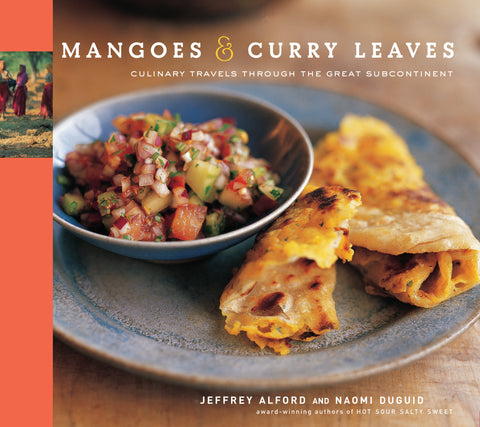 Mangoes & Curry Leaves
For this companion volume to the award-winning Hot Sour Salty Sweet, Jeffrey Alford and Naomi Duguid travel west from Southeast Asia to that vast landmass the colonial British called the Indian Subcontinent. It includes not just India, but extends north to Pakistan, Bangladesh, and Nepal and as far south as Sri Lanka, the island nation so devastated by the recent tsunami. For people who love food and cooking, this vast region is a source of infinite variety and eye-opening flavors.

Home cooks discover the Tibetan-influenced food of Nepal, the Southeast Asian tastes of Sri Lanka, the central Asian grilled meats and clay-oven breads of the northwest frontier, the vegetarian cooking of the Hindus of southern India and of the Jain people of Gujarat. It was just twenty years ago that cooks began to understand the relationships between the multifaceted cuisines of the Mediterranean; now we can begin to do the same with the foods of the Subcontinent.