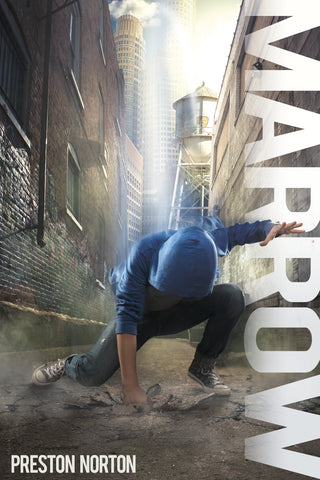 Marrow
Young Adult 2016 Utah Book Award Winner

Marrow is a fourteen-year-old prodigy at FIST (Fantom Institute for Superheroes-in-Training). With a perfect score on his finals, the ability to smash through walls, and leaps that can launch him over a city block, the Sidekick Internship Program is bound to place him with a top-notch superhero mentor for the summer. But when a series of disastrous events lands Marrow on academic probation, he is forced to team up with Flex--a drunk, hippie, bum with the power of elasticity.

The two Supers' powers and personalities clash as they are forced to overcome their differences to prevent the return of Cosmo City's most notorious foe, a supervillain so powerful, no one will survive the cataclysm he is sure to unleash.

"If you can't get enough of superhero and comic book movies, read Marrow now! It's like stuffing an action movie into your head. The twists will surprise you."
- Adam Glendon Sidwell, Bestselling Author of CHUM and EVERTASTER.

"Fans of comics, superheroes, and stories with twist after twist will love Marrow. It's filled with nods and homages to classic heroes, yet still manages to put a unique stamp on the genre."
- Jacob Gowans, Bestselling Author of the PSION BETA Series.