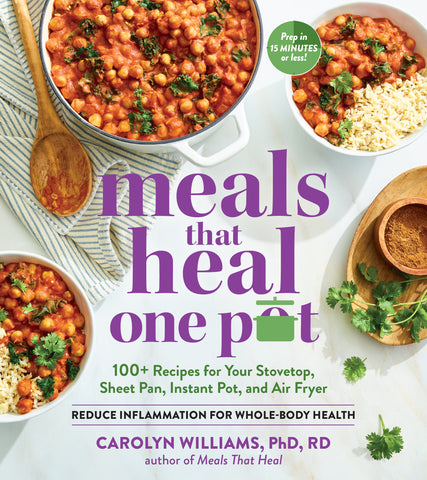 Meals That Heal – One Pot
Boost your health with just one pot or pan, 15 minutes of prep, and 100 flexible anti-inflammatory recipes

Why live with chronic inflammation when you can cure it with delicious food? Meals That Heal – One Pot presents over 100 quick-fix recipes for your stovetop, sheet pan, Instant Pot, and air fryer—packed with anti-inflammatory foods that will help you feel your best. Plus, James Beard Award winner and culinary nutrition expert Carolyn Williams includes vegetarian, low-carb, gluten-free, and dairy-free options perfect for everyone.
Toss-and-go meals: Mediterranean Quinoa Salad, Avocado-Feta Shrimp Toss
Soups and salads: Chile Verde with Shredded Pork, Street Corn Salad
Meatless mains: Skillet Shakshuka, White Cheddar-Pumpkin Mac and Cheese
Desserts and drinks: Chocolate Chip Almond Butter Cookies, Elderflower Margaritas
Don't brush off warning signs of inflammation (such as tiredness, frequent colds, or acid reflux). With 
Meals That Heal – One Pot, 
you'll reduce not only these nuisance symptoms but also inflammation's long-term risks: immune dysfunction, high blood pressure, heart disease, cancer, and more. Carolyn's four-step approach, stress-busting tips, genius meal-prep hacks, and weekly menus make it easy to change your diet and heal inflammation with food—instantly.