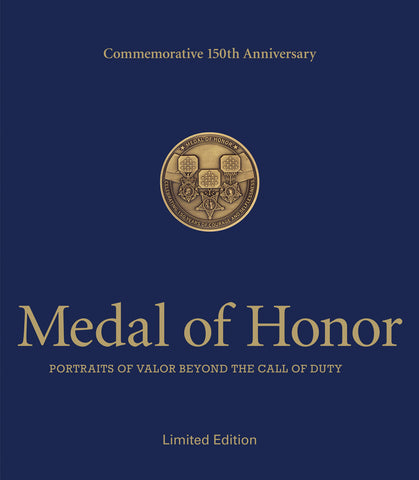 Medal of Honor Commemorative 150th Anniversary Limited Edition
This numbered, limited edition of Medal of Honor: Portraits of Valor Beyond the Call of Duty has been published to celebrate the 150th anniversary of the medal. The clothbound book fits into an elegant clothbound slipcase embedded with a commemorative medallion that was struck for this occasion and has been embossed and debossed on both sides.
The book includes 144 contemporary portraits of recipients by award-winning photographer Nick Del Calzo and profiles by National Book Award nominee Peter Collier. First published on Veterans Day 2003, this New York Times bestseller has now been updated and augmented to include new essays plus:
• Letters from all living presidents • A foreword by Brian Williams • Profiles of both Sergeant Giunta and Sergeant Petry, the first two living recipients of the medal since the Vietnam War
There are also essays by Tom Brokaw, Senator John McCain, and Victor Davis Hanson, and a multimedia DVD with historic footage and recipients' first-person reflections. The Medal of Honor recipients in the book fought in conflicts from World War II to Afghanistan, serving in every branch of the armed services.