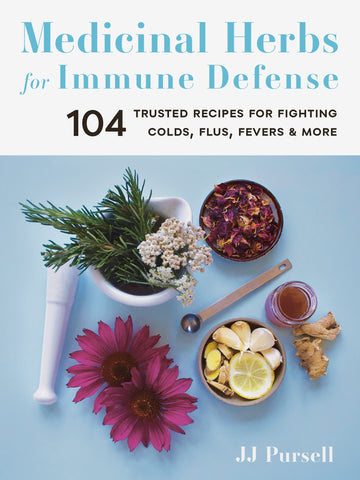 Medicinal Herbs for Immune Defense
"Read this to naturally boost your immune system and successfully battle colds and flu." —All the Good Books

Are you looking for safe and natural ways to support your immune system? Dr. JJ Pursell is here to help with herbal recipes focused on preventing, addressing, and healing hundreds of common health concerns.

Medicinal Herbs for Immune Defense offers recipes that will help you support and build up your immune system, with recipes addressing common health concerns like colds, the flu, bronchitis, coughs, and more. The 104 recipes include capsules, salves, teas, tinctures and more that are safe and easy to create at home. You will also learn how to build a home apothecary and find value in a primer focused on the most powerful herbs. Don't wait for illness to strike—prevention will always be the best medicine.