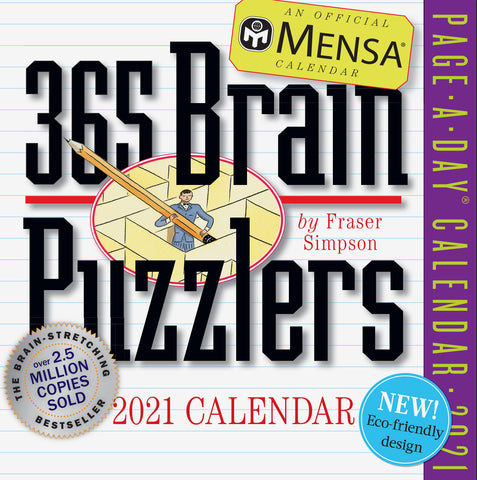 Mensa 365 Brain Puzzlers Page-A-Day Calendar 2021
365 mind-expanding puzzles and conundrums for anyone who likes a challenge.
It's like circuit training for the brain—an exhilarating mental workout sanctioned by Mensa, the internationally famous high-IQ society, written by renowned puzzle constructor Fraser Simpson.
3
65 Brain Puzzlers
delivers a daily word or number challenge that's packed with fun and creativity, but tough enough to make you sweat. Test your knowledge of operations in Arithme-Pick. Get your wordplay on with Rhyme Scheme. Plus pangrams, logic puzzles, sequences, anagrams, code breaking, and word problems:
If 60% of the people in line are in front of you, and 37.5% of the people in line are behind you, what is the total number of people in the line?*
Smart, addictive, and good for the brain
Answers on the back of each page
Introducing new eco-friendly cardboard backer and larger page size!
Printed on FSC-certified paper.
*40 people