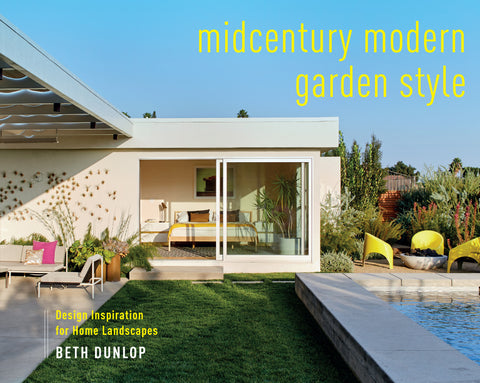 Midcentury Modern Garden Style
Midcentury modern design is as popular as ever, leading many of the hottest national real estate and home decór trends. One of the key features of a midcentury home is a cohesive connection between the indoor and outdoor spaces. Because of this, the garden plays an important role.
 
Midcentury Modern Garden Style, by Beth Dunlop—the editor in chief of Modern Magazine, celebrates the important role the landscape plays in this iconic style and helps homeowners create gardens that perfectly match their modern home. Dunlop explores the contribution of important practitioners, such as Garrett Eckbo, Lawrence Halprin, and Thomas Church, by pairing classic examples of their work with contemporary examples that have similar features. Readers will find a wealth of inspiring ideas for achieving the iconic look, and a resource section details where to buy the best plants, hardscape, and furniture.
 
Midcentury Modern Garden Style is a rich, photo-driven guide and a must-read for fans of modern architecture and design.