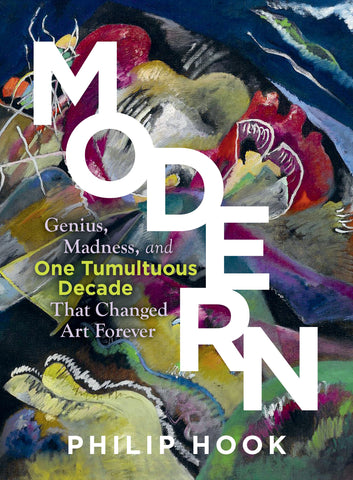 Modern
A revelatory, fast-paced account of the most exciting, frenzied, and revolutionary decade in art history—1905 to the dawn of World War I in 1914—and the avant-garde artists who indelibly changed our visual landscape

Modern begins on a specific day—March 22, 1905—at a specific place: the Salon des Indépendants in Paris, where works of art we recognize as modern were first exhibited. Drawing on his forty five-year fine art career, author Philip Hook illuminates how this new art came to be—and how truly shocking it was.

With Hook's expert guidance, we witness movement upon movement that burst forth in dizzying succession: Fauvism, Expressionism, Primitivism, Symbolism, Cubism, Futurism, and Abstract art. As Hook barnstorms across Europe—to London, Germany, Moscow, Scandinavia, and everywhere modern art was being made—his vivid accounts breathe new life into the work and times of Picasso, Matisse, Modigliani, Kandinsky, Malevich, Klimt, Schiele, Munch, and nearly two hundred other artists who painted, sculpted, and exhibited alongside them, and whose collective genius was understood and appreciated by few at the time.

Hook reconsiders the decade from a series of fresh angles: What was the conventional art against which Modernism sought to rebel? Why were avant-garde artists so self-obsessed? What persuaded a few bold collectors to buy difficult modern art? And why did others pay so much money for Old Masters at the same time?

Modern helps us answer these questions and more—and to see how avant-garde artists marshaled their genius (and oftentimes their madness) to create works of such profound consequence, they still reverberate today—and which, taken together, made for a movement more influential than even the Renaissance.