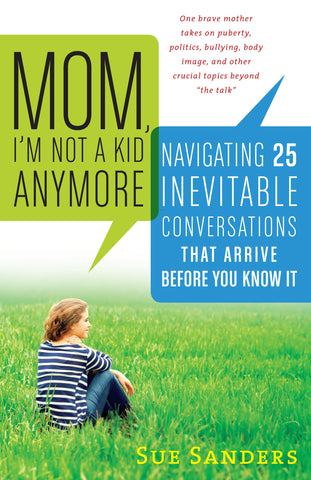 Mom, I'm Not a Kid Anymore
Raising a preteen can sneak up on you. Best friends can turn into crushes—or bullies—overnight, and suddenly everything you do is so embarrassing. Connecting with someone who not so long ago was your baby and now only responds in shrugs and eye-rolls is difficult, but open, respectful communication is exactly what a preteen needs.

In Mom, I'm Not a Kid Anymore, Sue Sanders guides by example, in 25 conversations and moments she has shared with her daughter, Lizzie. Everything is fair game:
•"Tell me about your mean girl."
•"You and Dad do that?"
•"When can I get Facebook?"
•"Do you believe in God?"
•"I got a 3 on my essay."
•"You wouldn't understand"

As Lizzie figures out who she is and Sue does her best to keep up, the conversations and milestones are sometimes unexpected, sometimes awkward, but always honest. With refreshing wit, candor, and self-awareness, Sanders reminds us to trust our intuition, keep an open mind, and answer those questions we can to help our preteens navigate growing up—and maybe learn a thing or two about ourselves in the process.