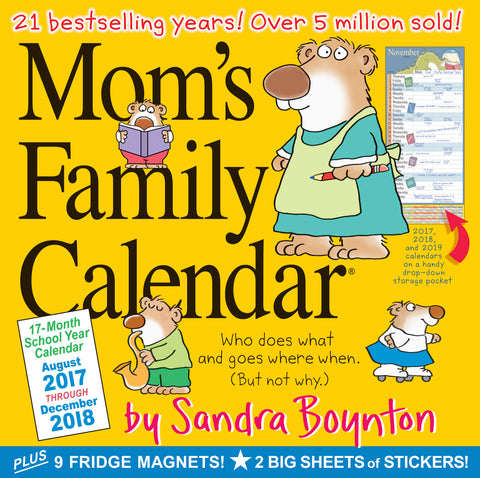 Mom's Family Wall Calendar 2018
Mom's Family Calendar is the 17-month calendar that not only keeps pace with Supermom, but does it with inimitable style and panache. (Because what says panache like  Sandra Boynton's befuddled pigs and cool cats?) The roomy grids are arranged vertically, with 5 columns across the top—one for each member of the family—and days of the month running down the left-hand side. The planner-like format makes it easy for Mom and Dad to keep track of what everyone in the family is doing, when. It's the perfect balance of no-nonsense organization and rhino in a hammock.

The 17-month calendar begins August 2017 in time for the start of the school year. Includes 9 big, all-new magnets, plus a drop-down storage pocket and 500 full-color stickers.