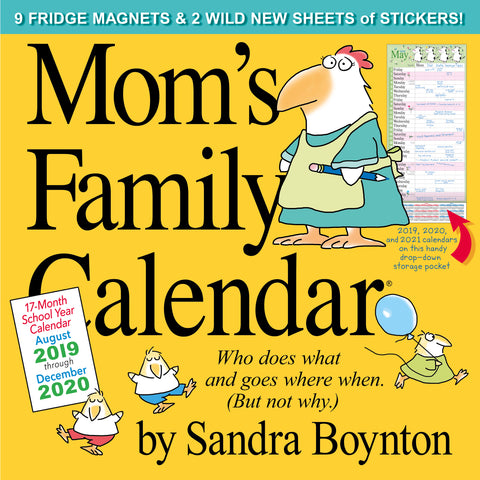 Mom's Family Wall Calendar 2020
The original family organizing calendar is a superstar multitasker, just like Mom herself!

The jolliest, hardest-working, bestselling wall calendar is back!  Mom's Family Calendar an innovative, ultra-practical wall-calendar-meets-planner format packed with adorably goofy cows, cheeky hippos, and playful piggies prancing and leaping through the pages. Beginning in August for the school year, this calendar shows where everyone is, and when, with just a glance. The ingenious grid is laid out vertically, with five columns across the top—one for each family member—and the days of the month reading down the left-hand side. It's the personal assistant Mom deserves: a superstar multitasker, just like Mom herself. Full 17-month calendar includes drop-down storage pocket, 500 cool stickers, and 9 big magnets, delivered with a big Boynton smile.