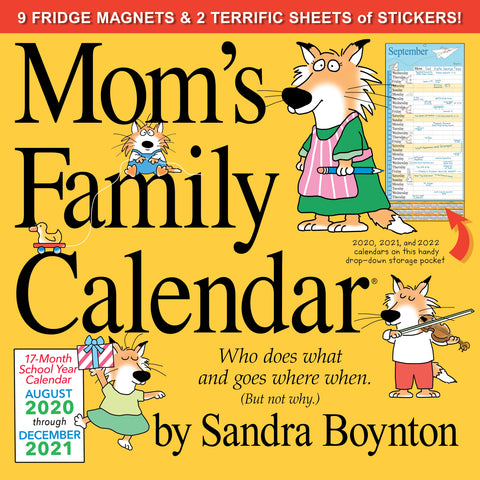 Mom's Family Wall Calendar 2021
For super moms, an ordinary calendar just won't do.
Which is why
Mom's Family Calendar
works just as hard as Mom does to keep the entire family humming along, no matter how many appointments, meetings, games, practices, lessons, and other activities are on the schedule. Each month's planner-like vertical grid features five columns across the top (one for each person), with the days of the month running down the left-hand side. There's plenty of space to write in comings, goings, and doings—and at a glance, it's easy to see who needs to be where, when. But the best part? Sandra Boynton's adorable hippos, chickens, cats, and cows running, dancing, and cartwheeling through the full-color grids.
Includes a drop-down storage pocket, nine fridge magnets, and more than 350 stickers
Printed on FSC-certified paper