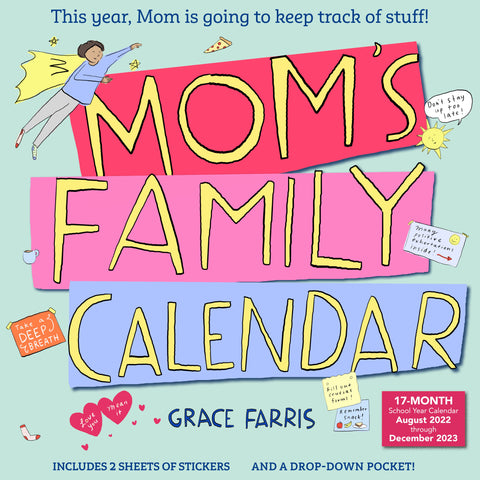 Mom's Family Wall Calendar 2023
The Mom's Family Calendar that moms—and families—have come to rely on.

Grace Farris, the author of Mom Milestones and a rising star in the parenting space, is an authority on funny. And as a mom of two who balances parenthood with successful careers in both medicine and cartooning, she's also an authority on busy. Now, she brings her hilarious, charming, and relatable-to-any-parent illustrations to the iconic Mom's Family Calendar. The 17-month calendar-meets-planner features ingeniously designed oversize grids with five columns across the top (one for each family member) and the days of the month running down the left-hand side. There's plenty of space for writing in everyone's appointments, Zoom meetings, and other reminders. Includes a drop-down storage pocket and two sheets of stickers. Printed on responsibly sourced paper.