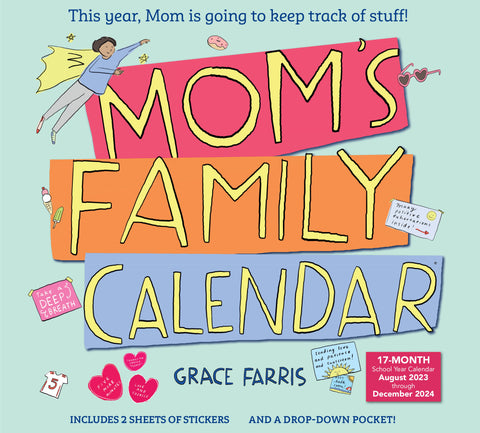 Mom's Family Wall Calendar 2024
This is no ordinary calendar. It's a super calendar. (Super, just like Mom!)
It's practical! It's funny! It tells you what day it is, and it works like a planner too. Plus it has author Grace Farris's completely relatable, laugh-out-loud illustrations that bring a smile every time you see them. Running a full 17-months, Mom's Family Calendar keeps moms (and everyone else in the family) organized grids with five columns across the top, one for each family member, and the days of the month running down the left-hand side. There's plenty of space for writing in soccer practices, doctors' appointments, school picture days, and remote meetings, plus reminders, notes, and random but essential thoughts. But wait, there's more! The calendar also includes a handy drop-down storage pocket to organize the free-floating piles of permission slips and registration forms, as well as two sheets of crucial stickers to help out with birthday reminders, chores, and fun future plans. The original family organizing calendar.
-Full 17-month calendar (August 2023-December 2024)
-2 sheets of stickers
-Drop-down storage pocket.
 Printed on responsibly sourced paper.