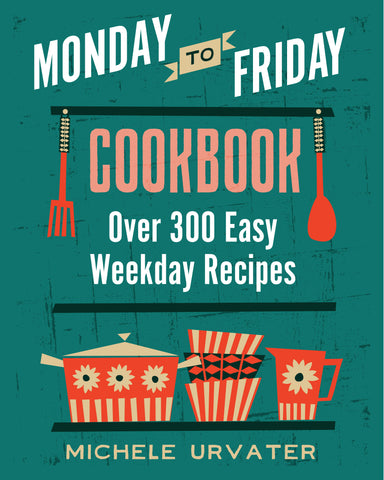 Monday-to-Friday Cookbook
Winner of a James Beard award, The Monday-To-Friday Cookbook is the cookbook for working people. A professional chef and "excellent teacher" (New York Times) who faces the same problem we all face in coming home to feed her family, Michele Urvater has developed an inspired system of weeknight cuisine that really works. It provides a complete blueprint: pantry, equipment, techniques, dining strategies-and over 300 superb recipes. And special skills are definitely not required.

First, no more Mother Hubbard syndrome. A manageable list of basic ingredients-pastas, grains, canned fish, vegetables, and more-creates the foundation, and emergency pantry-only recipes mean you'll always have dinner in the house. Learn how to build meals around a focus, from the season's first asparagus to family members home at different times. And recycle-the roast you prepare on Sunday will help dress pasta on Tuesday.

Then there are the recipes themselves: delicious, undemanding, nutritious, and economical dishes that allow for the utmost adaptability. Salmon Chowder. Pasta with Tuna and Black Olives. Twelve versions of sauteed chicken breasts. Gingered Lamb Stew. Seafood Risotto with Greens. Instant Chocolate and Whipped Cream Cake.

With menu planner, glossary of techniques, professional tips throughout, clean-up hints, and Monday to Friday appendices-including the best recipes for children, entertaining, singles, and for cooking in 30 minutes or less, The Monday-To-Friday Cookbook is indispensable. Michele Urvater is also the host of her own TV series on The Television Food Network.

Main Selection of the Book-of-the-Month Club's Good Cook Book Club and the Better Homes & Gardens Family Book Service. 198,000 copies in print.