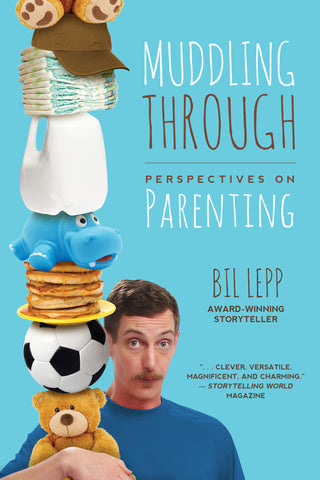 Muddling Through
"When I was asked to write this book it was not because I am an accredited child rearing expert. I have no degree, credentials or recognition as a child raising expert. I am a professional storyteller who occasionally tells stories about parenting. Here's an important credential I do hold: I have won the West Virginia Liars' Contest five times. The advice I offer, however, is honest. I have two kids who, at this writing, are eight and eleven years old. That gives me nineteen collective years in the parenting trenches. I cannot claim to be a successful parent. I'm not sure when any parent can deem their job a success. Your child's whole life will be greatly determined by the portion they spend with you. I am offering what advice I can with the idea that I think my wife and I are doing pretty well.

"I should admit that I have never before written an advice book, never read an advice book, and don't have much intention of ever reading one. I'm not sure I've ever even read an instruction manual past the point where it says, 'Before attempting to operate this device you need to thoroughly read these instructions.' I just muddle through." —from the Introduction

While National storyteller Bil Lepp has been known to lie in public, in his book Muddling Through he gives us some truths he has learned from being a parent and from having parents.  Each lesson has a story attached which makes it not only fun reading, but memorable learning as well.