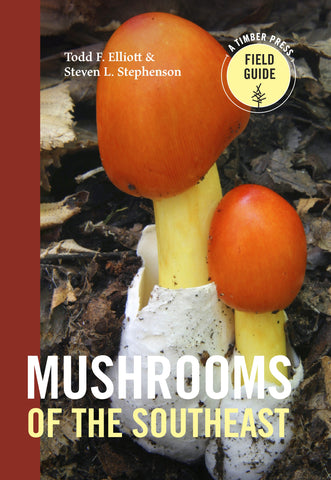 Mushrooms of the Southeast
Ideal for hikers, foragers, and naturalists, the Timber Press Field Guides are the perfect tools for loving where you live.
Mushrooms of the Southeast
 is a comprehensive field guide to the most conspicuous, distinctive, and ecologically important mushrooms found in the region. This useful guide features introductory chapters on the basics of mushroom structure, life cycles, and habitats. Profiles include color photographs, keys, and diagrams to aid in identification, and tips on how to recognize and avoid poisonous mushrooms. 
Covers Alabama, Arkansas, northern Florida, Georgia, Kentucky, Louisiana, Maryland, Mississippi, North Carolina, South Carolina, Tennessee, Virginia, and West Virginia
Describes and illustrates more than 350 species
348 photographs, with additional keys and diagrams
Clear, color-coded layout