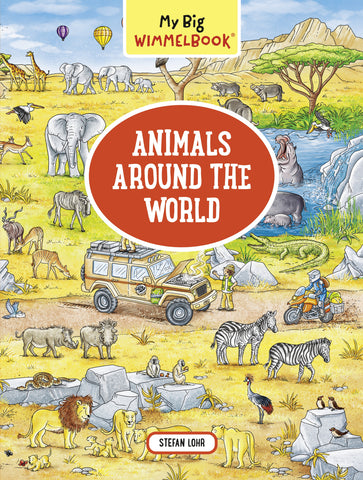 My Big Wimmelbook—Animals Around the World
Designed for a color e-reader with a touch screen.
My Big Wimmelbooks let kids ages 2 to 5 be the storytellers with hours of seek-and-find hands-on learning—and fun!
This one-of-a-kind picture book features six panoramic scenes that are bursting with life—and tons to discover! First, your child will meet a colorful cast of characters: a pair of wildlife photographers, a daredevil adventurer, and more.
Then, as they explore the scenes—from the Antarctic region to the African plains—children as young as two will have a blast pointing out recognizable things, while older kids will begin to find the star characters . . . and tell their stories!
It's hours upon hours of fun—and an effortless introduction to literacy to boot.
Please use pan and zoom to explore the illustrations.
About Wimmelbooks
Wimmelbooks originated in Germany decades ago and have become a worldwide sensation with children (and adults!) everywhere. My Big Wimmelbooks is the first-ever Wimmelbook series to feature Wimmelbooks as Wimmelbooks in English. They've been praised as "lively . . . and abounding with humor and detail" (WSJ), likely to "make any parent's heart sing." (NYT)