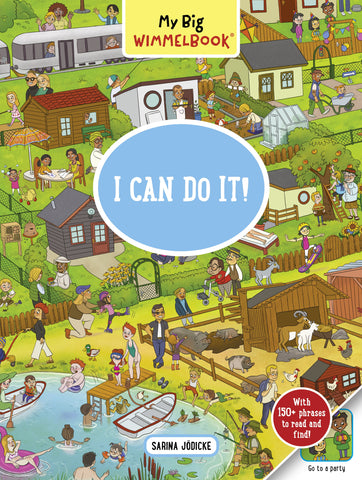 My Big Wimmelbook—I Can Do It!
Kids will learn 150 phrases for everyday activities in our first wimmelbook with words! The My Big Wimmelbooks series is an effortless introduction to literacy that lets beginning readers ages 2 to 5 be the storyteller—with hours of seek-and-find hands-on learning.

In these oversize board books, every page is bursting with life—and tons to discover! Children as young as two have a blast pointing out recognizable things—a blue tricycle, a hungry dog, a piggyback ride—while older kids can follow the star characters from page to page, telling their stories along the way.

How? Wimmelbooks are virtually instruction-free, inviting kids to make their own way through the busy Wimmelworld they encounter, and to craft their own stories. First, you're introduced to a unique cast of characters who are hidden in plain sight on the pages that follow. As you seek them out, each character's storyline unfolds, but it's up to kids to interpret the scenes and create stories they think fit. 

I Can Do It! brings in an extra educational element, with simple text on each spread that parents can read to children or children can try to sound out all by themselves. As the characters explore places like a neighborhood, school, city center, garden, and beachside carnival, short phrases call out what they're doing. Can you find someone tying their shoes? Look at the friends playing hide-and-seek! Who's going to sleep? This word-filled wimmelbook is sure to provide hours of imaginative fun—and an excellent introduction to literacy!