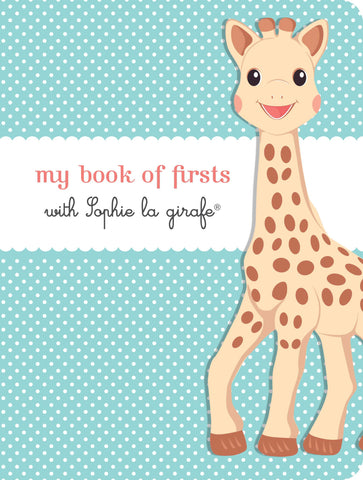 My Book of Firsts with Sophie la girafe®
A delightful journal for recording your child's special "firsts," featuring Sophie la girafe, the #1 teether toy in the US
A child's first years are a time to cherish, but they often fly by in a haze of diaper changes and play dates.
My Book of Firsts with Sophie la girafe
captures more than 85 of baby's important milestones—and continues the adventure into the early school years:
First night in the crib, and first night in a "big kid" bed
First laugh, and first words
First time crawling, and first time with a babysitter
First trip to the park, and first favorite book
First day at school, and much more!
Complete with an adorable die-cut magnetic closure in the shape of Sophie, this compact journal is brimming over with sweet and engaging questions ("What did your baby's first outfit look like?"), plus space for photos and mementos (such as your child's first doodles, signature, and party invitation). It's the perfect family treasury of every special "first"—whether silly, serious, or surprising!