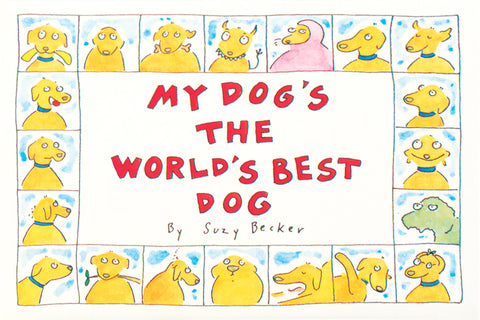 My Dog's the World's Best Dog
After publishing one of the great cat books of all time--All I Need to Know I Learned from My Cat, which propelled both author and cat, Binky, to stardom--Suzy Becker makes a startling confession--she's a dog lover, too. And not just an ordinary dog lover, but a confirmed my-dog's-the-world's-best-dog dog person. My Dog's The World's Best Dog is a valentine to dogs and dog people everywhere, full of whimsy and affection. Page after page captures a knowing moment in the relationship between people and dogs. Wylie, subject of the book, is Every Dog, and why is she the world's best dog? Count the ways: "There's not a mean bone in her body." "She knows when I'm coming-and gives the best greetings, even if I've only been gone for 45 seconds." "My dog loves my cat-which is not to say that the reverse is true. But that doesn't seem to bother her much. Come to think of it, nothing does."

Selection of the Literary Guild. 117,000 copies in print.