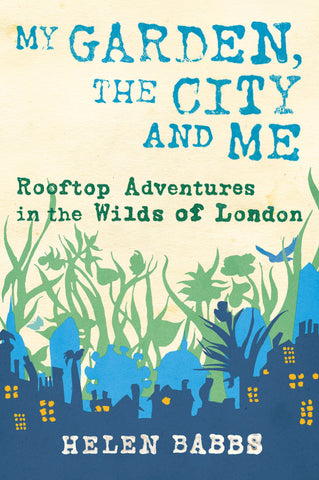 My Garden, the City and Me
Helen Babbs is a self-proclaimed city girl who lives on the second floor of a flat in a chaotic corner of London. An urge to find more green in the city and a stronger connection to the natural world leads her to create her first garden, an organic edible garden on her rooftop. This year-long adventure is the story behind My Garden, the City and Me.
The journey begins in the dark of winter, where Babbs finds herself at a seed swap on a February morning, seduced more by packaging than by any true understanding of the plants. As the year progresses, Babbs revels in failures, like waking up bleary eyed and stomping on her seed starts, and triumphs like her summer-ending dinner party made with homegrown produce. Along the way she discovers "that I like gardening in my pajamas and that growing something from seed, watching it develop and then eating its fruits is truly joyful. I've daydreamed out there and entertained out there. It's the force behind new friendships that I've forged. The garden has opened my eyes to a whole new side of London and urban living."
My Garden, the City and Me is a lyrical narrative about a twenty-something in search for a bit of wild in her city. The journey is charming, honest, and steeped in the lore of London, a city equally known for its gardens and its grit. In the end Babbs has achieved a new perspective on what it means to live green in the city she loves.