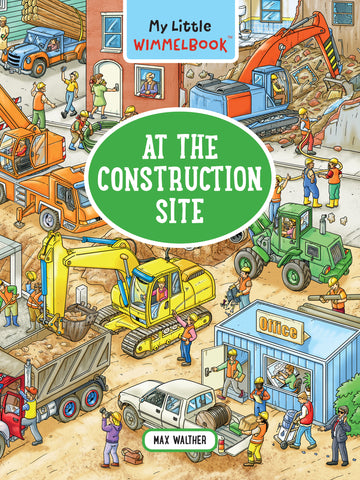 My Little Wimmelbook—At the Construction Site
My Big Wimmelbooks are hours of seek-and-find, hands-on learning and fun for kids ages 2 to 5—and now, they're small enough to carry around everywhere!

In these board books, every page is bursting with life—and tons to discover! Wimmelbooks are virtually instruction-free, inviting kids to make their own way through the busy Wimmelworld they encounter, and to craft their own stories. Children as young as age 2 have a blast pointing out recognizable things—a blue tricycle, a hungry dog, a piggyback ride—while older kids can follow the star characters from page to page, telling their stories along the way.
 
My Little Wimmelbook—At the Construction Site brings young readers to a variety of bustling construction sites in Wimmelcity, where they join a hardworking crew creating roads, a downtown building, a house, and more! It's the same exciting window into a construction team's world, made just the right size for portable fun.

About Wimmelbooks
 
Wimmelbooks originated in Germany decades ago and have become a worldwide sensation with children (and adults!) everywhere. My Big Wimmelbooks is the first-ever series to feature wimmelbooks in English. They've been praised as "lively . . . and abounding with humor and detail" (WSJ), likely to "make any parent's heart sing" (NYT).