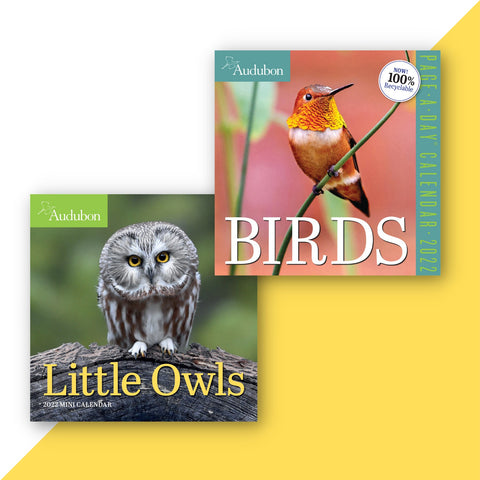 National Audubon Society Bird Calendar Collection
The next best thing to a daily sighting in the field: two Audubon bird calendars for 2022.

Audubon Birds Page-a-Day Calendar 2022 brings the birder's bucket list right to your desktop, featuring hundreds of beautiful and fascinating birds captured in captivating full color, and species from all over the world and a diversity of habitats. A Western Tanager warbling on a tree bough. A Black-capped Chickadee alighting on a sunflower. A trio of distinctive King Eiders skimming the water. A close-up portrait of a pink-feathered Lesser Flamingo. And a lone Adelie Penguin framed by a pristine glacier. Captions include scientific and common names plus fascinating information about plumage, habitats, habits, and more.

Audubon Little Owls Mini Wall Calendar 2022 celebrates round eyes, inscrutable expressions, and fluffy feathers all in an irresistibly tiny package (both the owls, and the calendar!). A year of diminutive owls, photographed in full color and perfectly showcased in the mini calendar format: A Northern Sawwhet Owl perched on a snow-dusted tree. A  trio of adorably goofy looking Boreal Owls. A Ural Owl with a look of wise contemplation. Plus the aptly named Spectacled Owl, sporting a fluffy  white head and black "spectacles." The photographs are accompanied by captions with information on scientific name, voice, habitat, and range. 

Printed on FSC-certified paper. Every purchase helps support the National Audubon Society.