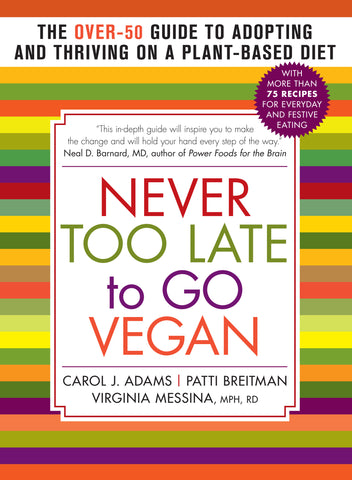 Never Too Late to Go Vegan
If you're 50 or over and thinking (or already committed to!) a vegan diet and lifestyle that will benefit your health, animals, and the planet, look no further than this essential all-in-one resource. Authors Carol J. Adams, Patti Breitman, and Virginia Messina bring 75 years of vegan experience to this book to address the unique concerns of those coming to veganism later in life, with guidance on:

• The nutritional needs that change with aging
• How your diet choices can reduce your odds of developing heart disease, diabetes, cancer, and other conditions
• Easy steps for going vegan, including how to veganize your favorite recipes and navigate restaurant menus, travel, and more
• How to discuss your decision to go vegan with friends and family
• The challenges of caring for aging or ailing relatives who are not vegan
• And many other topics of particular interest to those over 50.

Warmly written, down-to-earth, and filled with practical advice, plus insights from dozens of seasoned over-50 vegans, Never Too Late to Go Vegan makes it easier than ever to reap the full rewards of a whole-foods, plant-rich diet.