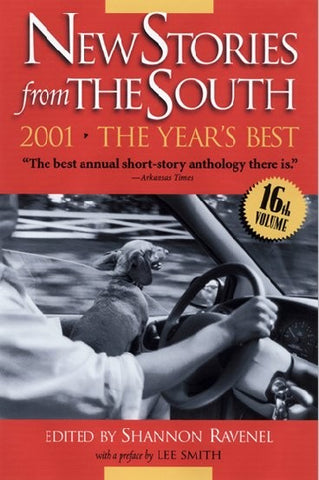 New Stories from the South 2001
It would be easy to describe the stories in this year's collection as typically Southern, if we only knew what that was. As Lee Smith writes in her engaging and provocative preface, the South is both as it always was and profoundly different. Some things have stayed the same: "As a whole, we Southerners are still religious, and we are still violent. We'll bring you a casserole, but we'll kill you, too." And some things have changed: many a Southerner spends more time in the mall than the kitchen, and many a Southerner is really a displaced Northerner. Still, there's something about life below the
Mason-Dixon line that leads to evocative, hilarious, moving, authentic, rip-your-heart-out stories.
Maybe it's true, as Lee Smith says, that "narrative is as necessary to us as air." Maybe narrative is in the air. This year's collection ranges from small vacant towns to thriving Southern cities, tracking the likes of a violent paperhanger, an ambitious fiddler, a failed adman, and a boy who kidnaps his schoolbus driver.
Nineteen standout writers make appearances in this year's volume: John Barth, Madison Smartt Bell, Marshall Boswell, Carrie Brown, Stephen Coyne, Moira Crone, William Gay, Jim Grimsley, Ingrid Hill, Christie Hodgen, Nicola Mason, Edith Pearlman, Kurt Rheinheimer, Jane R. Shippen, George Singleton, Robert Love Taylor, James Ellis Thomas, Elizabeth Tippens, Linda Wendling.
Each story is followed by an author's note. Readers will also find an updated list of magazines consulted by Ravenel and a complete list of all the stories selected each year since the inception of the series in 1986.