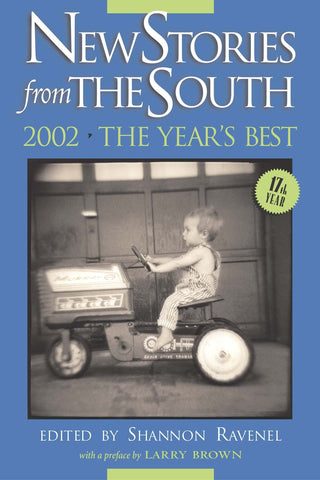 New Stories from the South 2002
As Larry Brown explains in this year's preface, This is all that I have, this land called North Mississippi, home of my father, and grand-fathers, and great-grandfathers, and luckily for me, it turns out to be always enough. It's that land and everything around it-the intractable clay soil, the twisting rivers, the air heavy with humidity-that makes the South a character in its own right, and that permeates this year's collection.
The stories in the seventeenth volume of New Stories from the South begin with the land or the water or the weather, but it's their depth and richness that take us somewhere altogether new-the South, seen from a wholly new perspective, as if for the first time. From the mountains of Tennessee to the suburbs of New Orleans to a hollowed-out antebellum house to the center of Texas, this year's New Stories from the South turns out to be always enough.
Nineteen writers make their mark in this year's volume: Dwight Allen, Russell Banks, Brad Barkley, Doris Betts, William Gay, Aaron Gwyn, Ingrid Hill, David Koon, Andrea Lee, Romulus Linney, Corey Mesler, Lucia Nevai, Julie Orringer, Dulane Upshaw Ponder, Bill Roorbach, George Singleton, Kate Small, R. T. Smith, and Max Steele.
Each story is followed by the author's notes about its origin. Readers will also find an updated list of the magazines consulted by Ravenel and a complete list of all the stories selected each year since the series' inception in 1986.